Aug 7-11, 14-18 and 21-25, 2017 (Richmond Ice Centre)
This Pre-Season Advanced Program is designed for:
Atom(2 Years experience) or PeeWee, Bantam, and Midget Players (3 Year experience) who have played in a Recreational, Spring or Recognized Hockey Program.

"READY FOR REP" Players who are or may be trying out for a Rep team in 2016-17
OVERALL OBJECTIVES OF PRE-SEASON ADVANCED PROGRAM
Dramatically Improve Power Skating/Edge Control/Mechanics and techniques

Increase Aerobics and Endurance on ice and speed up recovery time on bench

Accelerate Speed, Mobility, Agility, and Quickness with intense interval Sprints

Improve On ice Balance, Power, Compete Skills with longer, more challenging skating sessions.

Achieve increased on ice work ethic, determination, checking and puck battling skills

Work to upgrade Shooting, Stickhandling, Passing and Game Play techniques
Advanced Power Skating Program
Technique and mechanics; forward/backward

Agility, mobility, 180 degree edge control, pivoting

Advanced acceleration and maximum explosiveness

High speed forward and backward transitioning

Instant stops with instant re-starts

Endurance, aerobics and stamina building
Advanced Stick Skills Program
Puck possession, body positioning and control, awareness

Forehand/backhand, touch, saucer, give and go, passing

Stickhandling, deking, toe drag, puck protection, transition

Forehand/backhand ,slap, snap and wrist shots, one timers
Advanced Gameplay / Compete Program
Offensive zone tactics, fore-checking, driving to the net, gaining body position (goal scoring), cycling

Defensive /neutral zone tactics, defensive positioning, angling, positional play, backchecking, communication and motivation

Battle and compete safely with respect for opponent, willingness to compete, puck control along boards, one on one battles, working for loose pucks

Body Checking , (age eligible only), giving and taking, where and when to use it, degree of force, personal and opponent safety concerns
Dynamic Pre-Session Warm-up
This pre-game warm-up session will dramatically reduce on-ice injuries and provide the players with the ideal practice or game preparation and performance. Visit the PRE-SESSION WARM-UP section of our website for complete details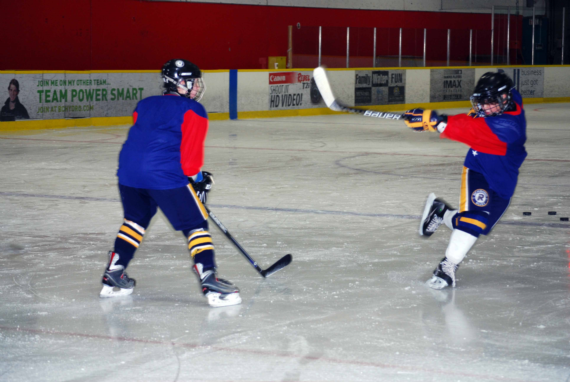 Our Advanced Pre Season Program is designed to take each player's skill set and skating to the next level focusing at all times on maximizing each player's natural abilities and developing these talents to their fullest. By providing each player with all the necessary tools for tryouts and/or evaluations we are also, upon completion of this high level program and his/her tryouts, preparing all players to look towards a very successful and rewarding regular season.
This ten hour (10) on-ice advanced program follows the Guidelines of Hockey Canada's 2015 Short and Long Term Skating, Skills and Development Program which was developed and upgraded in recognition of the rapid escalation of skills of the European Hockey Player.
This new program was established to standardize and improve training practices with the objective of improving each player's natural abilities so he/she can reach their maximum potential. While it should be the goal of each team to be successful, the individual player improvement process should be at the forefront of each team and a quality on-ice and off-ice development component must not be compromised.