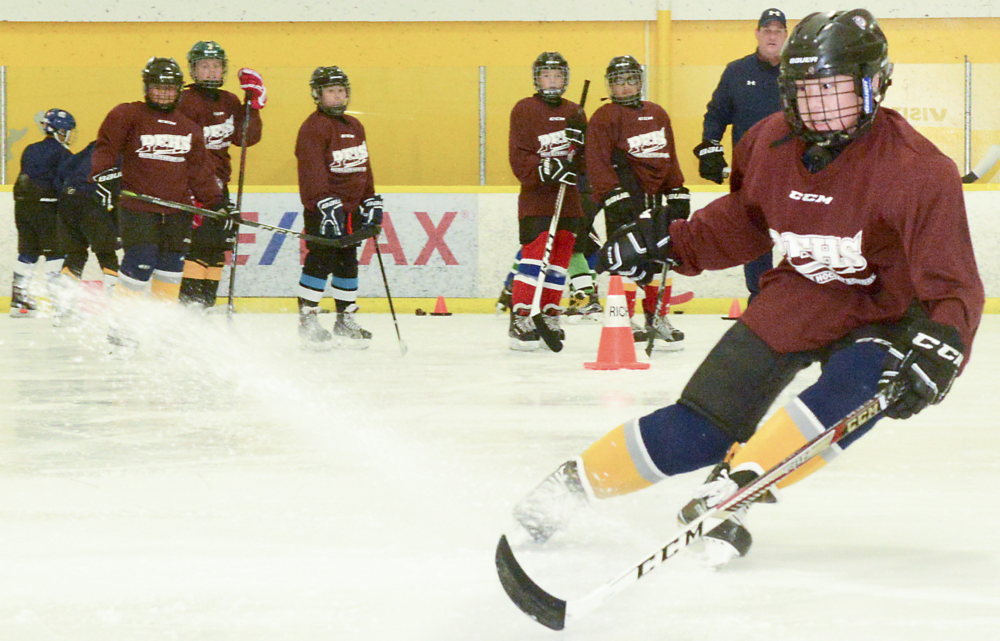 For all "READY FOR REP" (2008-09), (2006-07) and (2002-05) Players ( 3 years experience) who are currently PLAYING REP or may be trying out for a REP TEAM in 2020-21
For all (2008-09), (2006-07) and (2002-05) players (3 years experience) who have played in a Recreational, Spring or Recognized Hockey Program
POD SYSTEM used by age group to evaluate and categorise players according to SKILL LEVEL

GUARANTEEING THE MAXIMUM COMPETITIVE AND LEARNING ENVIRONMENT FOR EACH PLAYER
Our Pre-Season Advanced camp will be an intense WEEK LONG ON-ICE / OFF-ICE 12 1/2 HOUR PROGRAM covering a wide range of SKATING, SKILLS, GAME PLAY and DYNAMIC WARM-UPS
OVERALL OBJECTIVES OF PRE-SEASON ADVANCED PROGRAM
Dramatically Improve Power Skating/Edge Control/Mechanics and techniques
Increase Aerobics and Endurance on ice and speed up recovery time on bench
Accelerate Speed, Mobility, Agility, and Quickness with intense interval Sprints
Improve On ice Balance, Power, Compete Skills with longer, more challenging skating sessions.
Achieve increased on ice work ethic, determination, checking and puck battling skills
Work to upgrade Shooting, Stickhandling, Passing and Game Play techniques
THEY WILL BE TOTALLY READY FOR THEIR TRYOUTS AND THE NEW SEASON.
Advanced Gameplay / Compete Program
THIS SESSION IS PREPARED AND SET ACCORDING TO THE AGE OF EACH OF THE GROUPS AND SERVES AS A MOTIVATOR TO ENCOURAGE PLAYERS TO COMPETE MORE EFFICIENTLY AND TO BETTER UNDERSTAND HOW TO PLAY THE GAME
Offensive zone tactics:Winning One-on-One battles: forechecking, in front of net, gaining body position in front of net, scoring, cycling
Defensive Zone tactics: Determined defensive positioning, srong angling, puck protection and competition, back checkig
Winning battles: Safely with respect for opponent, Compete at all times, puck control, one-on-0ne battles, working for loose pucks
Competing, Determination, Small Games
Body Checking: (Age eligibile only) giving and taking, where and when to use it, degree of force, personal and opponent safety concerns
Dynamic Pre-Session Warm-up
This pre-game warm-up session will dramatically reduce on-ice injuries and provide the players with the ideal practice or game preparation and performance. Visit the PRE-SESSION WARM-UP section of our website for complete details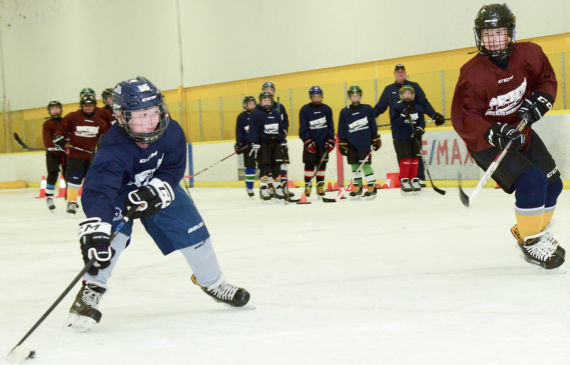 The Rewards are Great
Our Advanced Pre Season Program is designed to take each player's skill set and skating to the next level focusing at all times on maximizing each player's natural abilities and developing these talents to their fullest. By providing each player with all the necessary tools for tryouts and/or evaluations we are also, upon completion of this high level program and his/her tryouts, preparing all players to look towards a very successful and rewarding regular season.
This twelve and a half hour (12 1/2) advanced program follows the Guidelines of Hockey Canada's 2018 Short and Long Term Skating, Skills and Development Program which was developed and upgraded in recognition of the rapid escalation of skills of the European Hockey Player.