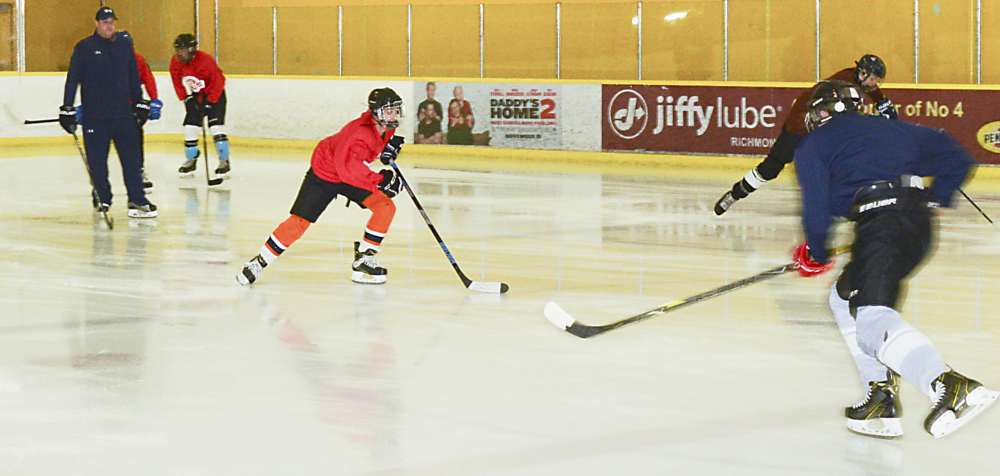 For ALL "READY FOR REP" Atom (2 years experience) or PeeWee, Bantam, Midget Players (3 Years experience)
ONLY for Players who are currently playing for a REP TEAM or who may be trying out for a REP TEAM in 2019-20 in a Recognised Hockey Association Program
The complexity and speed of these Advanced Sessions are dependent on the age of the players and take into account that they are highly motivated and ready for the challenges presented by this Advanced Program. Each session is carefully designed and created for each specific age group and is designed to dramatically improve each individual player's GAME PLAY SKILLS.
The first session of each Atom and Peewee Program is dedicated to Power Skating, Puck and Shooting Technical Skills.
The second half of the session is devoted completely to Tactical Training and Advanced Game Play. This will bring players of these age groups more information as to what their personal Game Strategy will need to be to be a more effective player and scorer.
The Bantam/Midget Sessions are broken up differently so as to provide more emphasis on a Forward's Tactical Training than Technical Development.
By isolating specific skills we can break down these fundamentals and advance them into the INDIVIDUAL PLAYERS TACTICS SESSIONS neccessary in GAME PLAY SITUATIONS (2ND SESSION).
EACH PLAYER WILL BE TOTALLY READY FOR THEIR TRYOUTS AND THE NEW SEASON
TECHNICAL SKILLS
The Fundamental Skills that are required to play the Game
1. POWER SKATING
Agility, Balance, Co-Ordination, Edge Control
Backward/Forward, Turning, Crossovers, Pivoting
Maximum Speed, Quick Feet, Transition
2) PUCK HANDLING/PASSING
Balance, Stance, Agility on Feet, Protection
Stickhandling, Spinning, Feinting, Strength
Weight shift to Propel Puck, Edge Transition, D to D
Receiving Pass, Body/Stick Positioning, Power
3) SHOOTING
Balance, Weight Shift, Power via Legs
Driving off Front Foot, Accuracy, Edge Transition
Forehand/Backhand, Slap, Snap, Wrist, One-Timers
INDIVIDUAL TACTICS SESSION
Players using a Combination of Indvidual Technical and Tactical Skills to create and or take away the Advantage of an opponent during a Game.
1) SCORING TACTICS
Shoot quickly with Movement, Swiveling, Positioning, Finding Seams
Rebounds, Deflections, Screening
Play in Slot Area and side of net, Driving to the Net, Using Screens
2) TACTICS TO WIN SPACE
Moving from Small to Big Ice
Passing Options, Empty Space, Offensive Direction
Working with Teammate by offering Pass Options, Sideways, Forward or Backward
Alternating Puck Protection, Give and Go
3) TRANSITION SKILLS FROM DEFENSE TO OFFENSE
Creating Offensive Pressure by Shooting Outside the Slot
Creating Offensive Pressure from Defensive Zone by Stretching and attacking Defensive Position
4) SKILLS TO PREVENT SCORING
Shotblocking with Body or Sticks, Deflections from net front
Body Position on Defensive Side, Pressure Checking, Break Opponent's Stride , Quick Puck Recovery
Angling Opponent from Big to Small Ice, Inside/Out Shoulder Alignment
Body Checking, Angling, Agility,
Defensive Anticipation, Reading Opponent's Play or Tendencies
COMPETING TO WIN
Every Skating, Shooting, Scoring and Game Play Tactic is needed to Develop Indivdidual Abilities and is used in Game Situations.
Skating Agility, Speed, Quickness, Crossovers, Edges, Power
Passing, Shooting, Stickhandling, Cycling, Shot Blocking
Transitioning, Angling, Breakouts ,Backchecks/Forechecks
Cornerwork, Net Front Presence, Pressuring
Competitivenes/Drive/Fun
Dynamic Pre-Session Warm-up
This pre-game warm-up session will dramatically reduce on-ice injuries and provide the players with the ideal practice or game preparation and performance. Visit the PRE-SESSION WARM-UP section of our website for complete details
Current Promotions
Convenient Payment Plan
Pay 50% Now, 50% Feb 8, 2020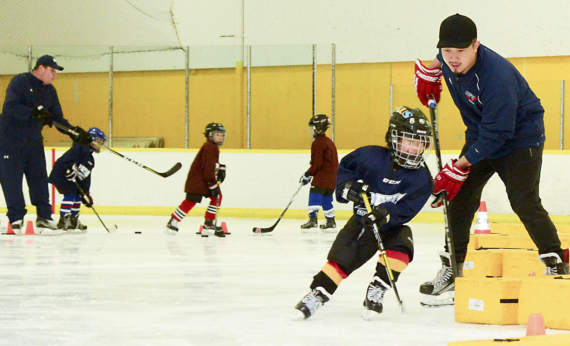 Coach Glenn uses a Progression Format which he feels is critical in the development of Technical and Individual Tactical Skills and the relationship of one to the other.
This new approach of isolating specific Technical/ Tactical movements and by breaking down these fundamentals and developing them and eventually using them during Game Play creates a solid foundation for each hockey player, Atom to Midget.
By increasing the Tempo and Complexity of the use of Technical to Individual Tactical Skills during the week he is able to develop a more rounded and competent hockey player ready to take this learning experience to the most important result
HOW TO PLAY THE GAME better than he/she has in the past and equally important more than the opponents
This new Improvement will be noticed by Coaches, Peers and Competitors and Guarantees the most successful season ever.