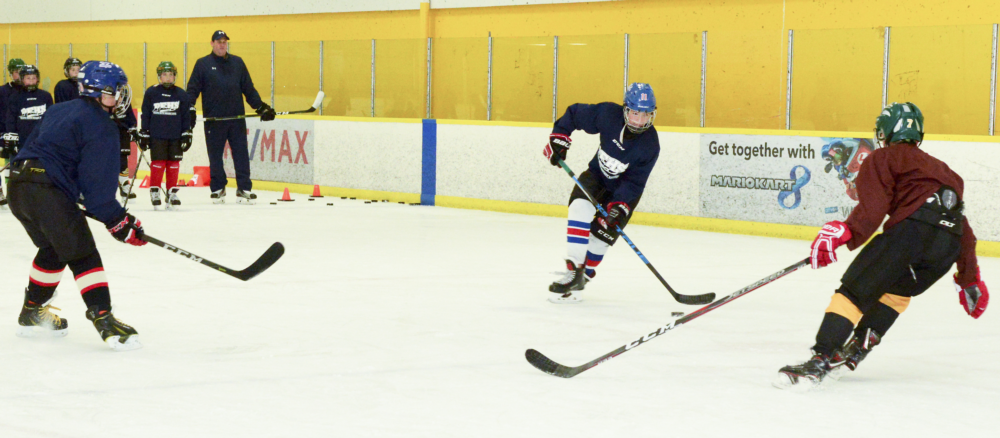 FOR ALL "READY FOR REP" Atom (2 years experience) or PeeWee, Bantam, Midget DEFENSEMEN (3 Years experience) in a Recognised Hockey Association Program.
FOR DEFENSEMEN who are currently playing for a REP TEAM or who may be trying out for a REP TEAM in 2019-20
The complexity and speed of these Advanced Defense Sessions are dependent on the age of the players and take into account that they are highly motivated and ready for the challenges presented by this Advanced Defense Program. Each session is carefully designed and created for each specific age group and is designed to dramatically improve each individual defenseman's GAME PLAY SKILLS.
The first session of each Atom and Peewee Program is dedicated to Power Skating, Puck and Shooting Technical Skills.
The Bantam/Midget Defense Sessions are broken up differently so as to provide more emphasis on Defenseman Tactical Training than Technical Development.
By isolating specific skills we can break down these fundamentals and advance them into the INDIVIDUAL DEFENSMAN TACTICS SESSIONS neccessary in GAME PLAY SITUATIONS (2ND SESSION).
EACH DEFENSEMAN WILL BE TOTALLY READY FOR THEIR TRYOUTS AND THE NEW SEASON
TECHNICAL SKILLS
The Fundamental Skills that are required to play the Game
1. POWER SKATING
Agility, Balance, Co-Ordination, Edge Control
Backward/Forward, Turning, Crossovers, Pivoting
Maximum Speed, Quick Feet, Transition
2) PUCK HANDLING/PASSING
Balance, Stance, Agility on Feet, Protection
Stickhandling, Spinning, Feinting, Strength
Weight shift to Propel Puck, Edge Transition, D to D
Receiving Pass, Body/Stick Positioning, Power
3) SHOOTING
Balance, Weight Shift, Power via Legs, Walk the Line
Driving off Front Foot, Accuracy
Slap Shot, Forehand/Backhand, Snap, Wrist
Shooting to Score, for Deflections, Setting up
INDIVIDUAL TACTICS SESSION
Players use a Combination of Tactical Skills in order to create and or take away the Advantage of an opponent during a Game
POSITIONING
One on One, Two on Two, Three on Three
Re-Directing the Rush, Pinching, Angling
Gap Control, Closing the Gap, Stepping up
Net Presence, Blue Line, Neutral Zone
PLAYING DEFENSIVELY
Pressure or Contain, Active Stick to distract and take away options.
Angling, Pinning, Body Contact, Finishing Checks
Forcing, Back Side Support, Sagging (covering forward farthest from the puck) Attack the Corners, Defend the Net, Defend Cycling
Shot Blocking in Shooting Lane,, Protecting the Goalie
PLAYING OFFENSIVELY
Move up Ice Quickly, Maintaining Gap with Forwards
Rush, Pinch or Offensive Support as Needed
Neutral Zone step-up, Offesnsive Responsibility and Direct Traffic at both ends
Winning Pinch Battles, Manage the Rush, Directing Traffic (Offensive and Defensive zone)
Control and Hold the Line, Choosing the Right Shot
COMPETING TO WIN - SMALL GAME PLAY
Every Power Skating, Shooting and Game Play Tactic is needed in Small Game Play and is used in Game Situations.
Skating Agility, Speed, Quickness, Crossovers, Edges, Power
Passing, Shooting, Stickhandling, Cycling, Shot Blocking
Transitioning, Angling, Breakouts, Backchecks/Forechecks
Cornerwork, Net Front Presence, Pressuring
Puck Support, Conditionig,
Competitivenes/Drive/Fun
Dynamic Pre-Session Warm-up
This pre-game warm-up session will dramatically reduce on-ice injuries and provide the players with the ideal practice or game preparation and performance. Visit the PRE-SESSION WARM-UP section of our website for complete details
Current Promotions
Convenient Payment Plan
Pay 50% Now, 50% July 5, 2019
Multi-Session Discount
Enjoy a discount of $25.00 off each additional session when registering the same child for more than one session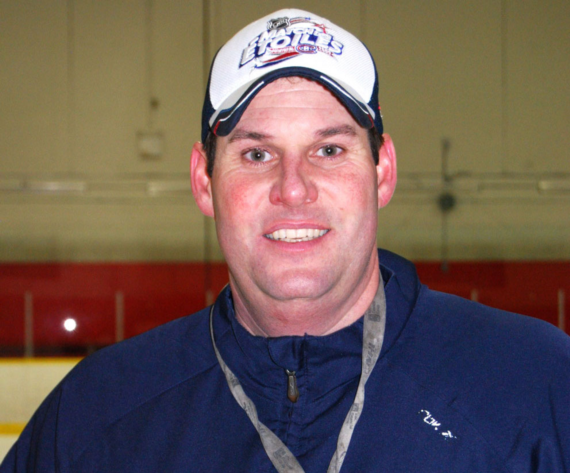 Total Defense
The team that wins the battles often wins the game. Coaches and scouts always look at how a player competes, his/her intelligence and leadership on and off the ice.
Head Coach Glenn, an outstanding Defenseman at John Abbott College, St Lawrence University and Belleville Junior A Bulls and Power Skating Instructor Jasper Tang and Skills Developer Alex Petan ( U.S. University Former Hobey Baker Award Finalist) will team up to take all the defensemen through all aspects of the position with individual direction, guidance and encouragement.