July 31 - August 4, 2017 (Richmond Ice Centre)
This Advanced Defenseman Training & Conditioning program is about learning the "New Defense" position that has evolved over the last eight years. The new NHL Rules which allow much less obstruction have filtered down to the Minor levels. This evolution has changed the way a defenseman must play and think and changes the perception of a "Defense" player.
This program is for Atom, PeeWee, Bantam and Midget Players and the content and difficulty level increases with each age category. It is intended for those players whose attitude, ability, strength and commitment has been proven in the past and whose determination to succeed ranks him/her in the highest level of his/her peer group. Atom defensemen must have a minimum of two years of Hockey experience and the other categories will require three years of organized hockey.
The stereotypical big, strong, physical player with somewhat less skating ability, speed and agility than forwards is being replaced with an athlete still sharing the traits of strength and physical play, but who is now relied on to match speed with attacking forwards, quarterback the team attack and participate to a far greater degree in the rush and play in the offensive zone including shooting skills.
Advanced Defenseman Program:
1. Defensive/Offensive play specific Instruction:
Forward/backward skating and edge control
Stick, body, net and odd-man rush positioning
Gap control, pivoting, neutral zone responsibility
Angling, low battles, first pass, transitioning
2. Shot making instruction:
Forehand, backhand, slap and forehand shot
Shooting accuracy, to score, for deflections, walk the line
Stick management, offensive, neutral and defensive zone passing
Power play responsibilities and opportunities
3. Battle and Compete instruction:
Winning one on one battles in the corners and the walls, (body checking and avoidance - Bantam and Midget only).
Domination in faceoff circle, in front of the net
Controlling your opponent, protecting your goalie
Responsibility for your own players, competing safely
Dynamic Pre-Session Warm-up
This pre-game warm-up session will dramatically reduce on-ice injuries and provide the players with the ideal practice or game preparation and performance. Visit the PRE-SESSION WARM-UP section of our website for complete details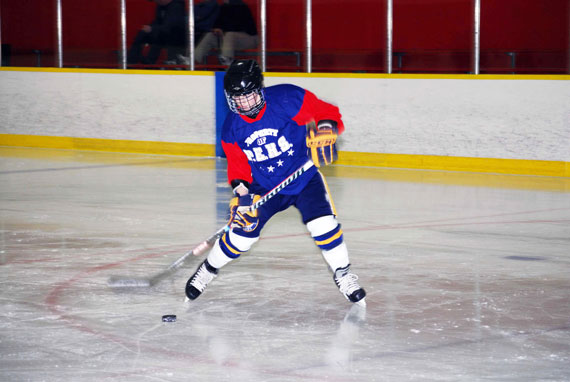 Winning By Competing
The team that wins the battles often wins the game. Coaches and scouts always look at how a player competes, his/her intelligence and leadership on and off the ice.
Coach Glenn, along with former Vancouver Giant and UBC All-Star Defenseman Linden Saip (Head Defensemen Skills Instructor) and Power Skating Instructor Nick Alexantonakis heads up our Defense Program and our ten (10) Nationally Accredited coaches will assist to take the defensemen through all aspects of the position with individualized instruction, direction, guidance and encouragement.