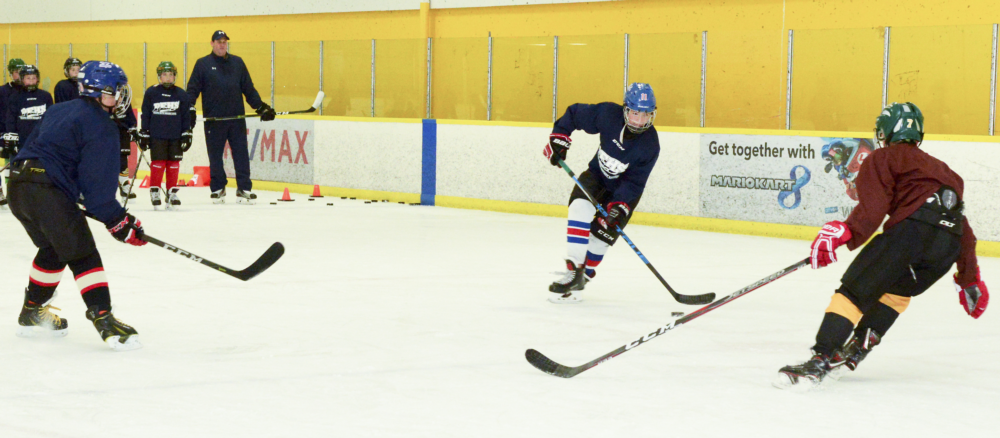 THE NEW ATOM (2010-2011) NATIONAL PATHWAY AS OUTLINED BY THE PCAHA REQUIRES THAT NO TRYOUTS OR EVALUATIONS CAN BE HELD BY LOCAL ASSOCIATIONS UNTIL THE FIRST WEEK AFTER LABOUR DAY. I.E September 13th.
PRIOR TO THAT WEEK FOUR(4) PRACTICE/SKILL SESSIONS MUST BE HELD BY ASSOCIATIONS. THREE FORMAL FIRST TRYOUT/SESSIONS ARE MANDATORY AFTER September 13th.
THE NEW HOCKEY REGULAR GAME SEASON STARTS FOUR(4) WEEKS AFTER FIRST TRYOUT WEEK
PEHS and Coach Glenn and his Ten(10) Nationally Certified Coaches recognize that there is and will be a dramatic and greater need for Professional Training and Skills Development prior to the MINIMUM OF TIME recommended that Associations and their Coaches have to prepare players for their Tryouts and Evaluations.
He has put together a NEW ADVANCED TRAINING PROGRAM (twelve and one half hours over five (5) days that guarantees your player will have participated in a Professional Program which will be well above any Association Sessions and ensures that your player will be well ahead of his/her peers and be
TOTALLY READY FOR HIS/HER TRYOUTS/EVALUATIONS AND THE NEW SEASON.
For all "READY FOR REP" (2010-11) Atom Players (2 years experience) who are currently PLAYING REP or may be trying out for a REP TEAM in 2020-21
For all (2010-11) Atom Players (2 years experience) who have played in a Recreational, Spring or Recognized Hockey Program
POD SYSTEM used by age group to evaluate and categorise players according to SKILL LEVEL
OVERALL OBJECTIVES OF PRE-SEASON PATHWAY ADVANCED PROGRAM
THE SESSIONS WILL BE WELL ABOVE ANY ASSOCIATION SESSIONS OFFERED AND ENSURES THAT YOUR PLAYER WILL BE WELL AHEAD OF HIS/HER PEERS DURING TRYOUTS AND THE REGULAR SEASON.
Dramatically Improve Power Skating/Edge Control/Mechanics and echniques
Increase Aerobics and Endurance on ice and speed up recovery time on bench
Accelerate Speed, Mobility, Agility, and Quickness with intense interval Sprints
Improve On ice Balance, Power, Compete Skills with longer, more challenging skating sessions.
Achieve increased on ice work ethic, determination, checking and puck battling skills
Work to upgrade Shooting, Stickhandling, Passing and Game Play techniques
ADVANCED GAMEPLAY/COMPETE PROGRAM
THIS SESSION IS PREPARED AND SET ACCORDING TO ATOM PATHWAY TRYOUT REQUIREMENTS AND SERVES AS A MOTIVATOR TO ENCOURAGE PLAYERS TO COMPETE MORE EFFICIENTLY. EVERY SKATING,SHOOTING, PUCK SKILLS AND GAME PLAY SESSION IS USED IN GAME PLAY/COMPETE TO PREPARE YOUR PLAYER FOR ALL GAME SITUATION AND TO BETTER UNDERSTAND HOW TO COMPETE AGAINST HIS/HER PEERS AND THE COMPETITION.
It puts to use the Tactics, Skills and Techniques used during each day
Focus on Multiple Skills, Increase Puck Touches/Defensive Maneuvers and Situational Repetition
Within small area defensemen in tighter situations, more shots/blocks in front of net , more on ice pressure
Competing , Battling, Winning, Positive effect on player
Dynamic Pre-Session Warm-up
This pre-game warm-up session will dramatically reduce on-ice injuries and provide the players with the ideal practice or game preparation and performance. Visit the PRE-SESSION WARM-UP section of our website for complete details
Current Promotions
Convenient Payment Plan
Pay 50% Now, 50% June 6, 2020
Multi-Session Discount
Enjoy a discount of $25.00 off each additional session when registering the same child for more than one session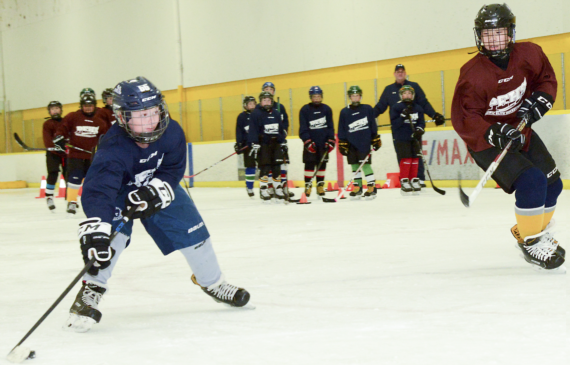 The Rewards are Great
Our Atom Pathway Advanced Pre-Season Program is designed to take each player's skill set and skating to the next level focusing at all times on maximizing each player's natural abilities and developing these talents to their fullest. By providing each player with all the necessary tools for tryouts and/or evaluations we are also, upon completion of this high level program and his/her tryouts, preparing all players to look towards a very successful and rewarding regular season.
This twelve and one-half hour (12 1/2) advanced program follows the Recommendations of PCAHA 2020 new ATOM (2010-11) Pathway Program which emphasis Long and Short Power Skating, improved levels of Sticks Skills, Shooting, Competing and Game Play which encourages an upgrade in all aspects in recognition of the rapid of skills of other competing countries. It is the beginning of the evolution of all age groups in the future