July 30 - August 3, 2018 (Richmond Ice Centre)
This Defenseman Development and Training/Battle& Compete Combo Program is focussed on teaching Defensemen the Skating, Tactics, and Battle & Compete Skills required to play the position. Defenseman must think and play in Today's Hockey Environment.
This program is for Atom, PeeWee, Bantam and Midget Players and the content and difficulty level increases with each age category. It is intended for those players whose attitude, ability, strength and commitment has been proven in the past and whose determination to succeed ranks him/her in the highest level of his/her peer group. Atom defensemen must have a minimum of two years of Hockey experience and the other categories will require three years of organized hockey.
This Defenseman must not only possess all the Strength and Stamina and physicality required but will also be able to have the agility and explosive speed required to compete with opposing forwards and be able to participate to a greater extent in the overall Team Play focussing on Hard Accurate shots from the Blueline and the net if needed.
They will be totally ready for their Tryouts and the New Season.
Advanced Defenseman Program Course Content:
1. Defensive/Offensive play specific Instruction:
Forward/backward skating and edge control
Stick, body, net and odd-man rush positioning
Gap control, pivoting, neutral zone responsibility
Angling, low battles, first pass, transitioning
2. Shot making instruction:
Forehand, backhand, slap and forehand shot
Shooting accuracy, to score, for deflections, walk the line
Stick management, offensive, neutral and defensive zone passing
Power play responsibilities and opportunities
3. Battle and Compete Skills Course Content
THE SESSION IS PREPARED AND SET ACCORDING TO THE AGE OF EACH OF THE GROUPS AND SERVES AS MOTIVATOR TO ENCOURAGE PLAYERS TO COMPETE MORE EASILY AND BETTER UNDERSTAND HOW TO PLAY THE GAME
Winning One-on-One battles:

gaining body position in front of net, scoring,

corner and wall domination, managing the gap, directing traffic on face-offs and puck control, protecting your goalie, transitioning, Hustle and determination
Defensive Zone tactics: Determined defensive positioning, strong angling, puck protection and competition, back checking. Neutral ice superiority, hustle and determination

Winning battles: Safely with respect for opponent, Compete at all times, puck control, one-on-0ne battles, working for loose pucks
Body Checking: (Age eligibile only) giving and taking, where and when to use it, degree of force, personal and opponent safety concerns

Small Area Game/Team Play to practice and develop learned skating, skills and game management
Dynamic Pre-Session Warm-up
This pre-game warm-up session will dramatically reduce on-ice injuries and provide the players with the ideal practice or game preparation and performance. Visit the PRE-SESSION WARM-UP section of our website for complete details
Current Promotions
Convenient Payment Plan
Pay 50% Now, 50% at the End of June
Multi-Session Discount
Enjoy a discount of $25.00 off each additional session when registering the same child for more than one session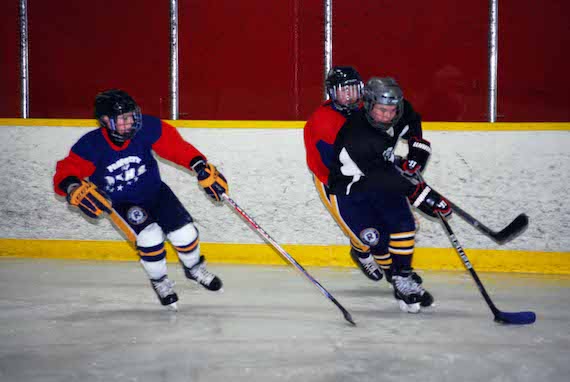 Total Defense
The team that wins the battles often wins the game. Coaches and scouts always look at how a player competes, his/her intelligence and leadership on and off the ice.
Head Coach Glenn, an outstanding Defenseman at John Abbott College, St Lawrence University and Belleville Junior A Bulls and Power Skating Instructor Jasper Tang and Skills Developer Alex Petan ( U.S. University Former Hobey Baker Award Finalist) will team up to take all the defensemen through all aspects of the position with individual direction, guidance and encouragement.